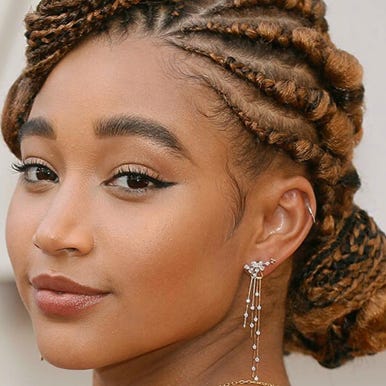 Instagram
With wedding season upon us, you're probably in the midst of preparing a few yourself. You might just be an attendee—which can get stressful enough—but, if you're a bridesmaid, you have a whole other layer of things to prepare. From keeping the bride sane to making sure you have all of the supplies you need for the big day, hair styling is probably the last thing on your mind. That's why we've rounded up 30 different bridesmaid ideas that can serve as your inspiration. From sleek updos to creative braids, read on for our favorite bridesmaid hairstyles for the 2019 wedding season.
Advertisement – Continue Reading Below
Swoopy Bun
This beautiful infinity sign-shaped hairstyle can be achieved with generous teasing at the crown and nape of your neck, a smoothing boar bristle brush, and a good shine hairspray.
Pompadour
Turn heads with this artistic interpretation of a pompadour hairstyle, adorned with big pearls and tinier braids.
Off-Center Part
Settle your part somewhere just off the center of your head and tuck your half up-do at a low angle for an elegant look.
Voluminous Ponytail
This hairstyle is the definition of "business in the front, party in the back." Smooth down your hair and pull it back to a low ponytail, letting your natural texture to come through.
Slicked Back Bun
Not only is a sleek bun completely timeless, but it'll seriously snatch your face—no face lift or temporary tape needed.
Simple Ponytail
A ponytail ensures that you'll be ready to help the bride with whatever she may need on her big day. loosely curl the ends to dress up this usually casual look.
Asymmetrical
Embrace your natural texture by fluffing out your curls and pulling back one side into a tight, smaller detail braid.
High Half-Up Ponytail
For girls with short hair, you can add the illusion of length by hiking your half-up ponytail to the top of your head. Hair stylist Justine Marjan also curled Ashley Tisdale's locks and added a ribbon for a playful vibe.
Cornrows and Fingerwaves
For a protective, glamorous hairstyle, take a cue from Vernon Francois, who sculpted Amandla Stenberg's braids into fingerwaves and a low bun.
Fringe
It doesn't take much for this hairstyle to look beautiful walking down an aisle. Keep your fine hair straight and allow your bangs to gently rest on your forehead to create this gorgeous bob.
Long French Braids
Janelle Monáe proves that a casual hairstyle can look seriously fancy with the right styling. Her hair is divided into three sections and braided back all the way down for some seriously impactful waist-length braids.
Air-Dried Curls
Who says you can't air-dry your hair before a wedding? This model proves that with a little bit of texture spray and hair oil, your natural curls can look beautiful and sophisticated.
Piecey Layers and Blunt Cut
If you're looking for ways to switch up your short cut, ask for heavy, piece-y layers and a blunt cut on the bottom. This will give you a ton of dimension in your hair without having to do too much styling.
Long Waves
The loose waves trend doesn't look like it's going anywhere for a bit, and bridesmaids with really long hair—or those with extensions for the wedding day—can shine like Desi Perkins.
Messy Natural Bun
Embrace your natural texture with a messy bun like this. The added fringe gives a soft youthfulness to the style, and the updo will show off some killer earrings.
Blunt Bob
Go dramatic but short with thick, straight bangs cut above your eyebrows and end your bob at your jawline.
'70s blowout
Channel your inner '70s babe with this Farrah Faucett-inspired look. Keep your fringe-y bangs straight around your forehead, part your hair at the center, and blow out your face-framing layers with some serious volume.
Messy Chignon
Want an updo that doesn't look uptight? Try out this take on a chignon by pulling out some pieces to frame your face. Mariah Leonard also pulled out some pieces at the back of her head so that her hair wouldn't lie flat against her head to create a really thrown-together (but still gorgeous) look.
Bouncy Curls
Nothing says "dance the night away" quite like a full head of bouncy curls. Jackie Aina's hair looks fun and party-ready—exactly how a bridesmaid should feel.
Layered Braids
Let your highlights shine through with this stacked braided updo. It allows you to see the dimension of your color, and the braids look beautifully chic. Adorn the style with a bejeweled hair band to add a little more glitz.
Blown Out Locks
Keep your bridesmaid hairstyle simple by blowing it out into soft curls. The effect is a simple, but dreamy style that can complement any dress style
Long French Braid
For bridesmaids with long hair, try a loosened up french braid for a more easygoing vibe. Add a little extra drama with some plants, flowers, or dainty jeweled threads.
Half-Up
This bride is all smiles with her natural hair pulled back into a half-up 'do. She added some volume at the crown to give her hair some height.
Dramatic Curls
Go for ultimate drama with these massive curls. To keep your hair in place before the ceremony, make sure you pin the curls in place to set while they cool.
Half-Up Fishtail
Sometimes, the best hairstyles are the simplest. Pull your hair into a half-up ponytail and add a fishtail braid with waves.
Rosette Waterfall
For a style with killer aisle impact, the hair is sculpted into five distinct rosettes cascading down the model's back and ornamented with small gemmed clips.
Rapunzel Vibes
Though you'd need some seriously long hair (or a ton of extensions) to put together this woven hairstyle, the end result is seriously beautiful. Why not add a few sprigs of baby's breath flowers?
Middle-Parted Wavy Locks
Perfect for balayage hair, this effortless style is beautiful on both brides (as pictured here) and bridesmaids alike. Part your hair down the middle and wave the bottoms with a 1.5-inch iron away from your face to get the look.
Chunky Braid
Start a thick braid at the very top of the head and continue it all the way over to one side so it falls over your shoulder. It will pair nicely with a one-shoulder silhouette.
Old Hollywood Glam
Channel some old Hollywood glam with a swoopy, voluminous curls and flipped ends, as seen on Kourtney Kardashian.
Kristin Corpuz
Kristin is a musician and freelance beauty, travel, and fashion editor and writer based in Los Angeles, and she is a proud graduate of Berklee College of Music.
Advertisement – Continue Reading Below